Salty Dog Maritime Marketing is a team of seasoned website developers and designers.   Video production and re-branding are the top areas of focus with Salty Dog Maritime Marketing.   Our creative, innovative and sophisticated team of website developers understands the value of online marketing. Online marketing is a porthole of endless target market opportunities.  We specialize in a broad range of creative and technical opportunities that build your business by generating results.  Our skilled designers and programmers are experts at transforming, revamping while custom designing websites, marketing tools, advertisements, email blasts and promotional material electronically and for print.
Our savvy team will meet and exceed the expectations of the worldwide web moment to moment growth patterns that are radically competitive in nature.  We plan to grow your business with the worldwide web and top SEO as vehicle for business growth patterns leading to business results with impact!
Salty Dog Maritime Marketing –  builds marketing tools, campaigns and websites that look terrific and work while producing lasting results.  Our Salty Dog team is skilled at building eye-catching, effective, result based marketing campaigns!  Opportunities that produce results is key to our clients overall success in our leading maritime industry and community nationally and internationally.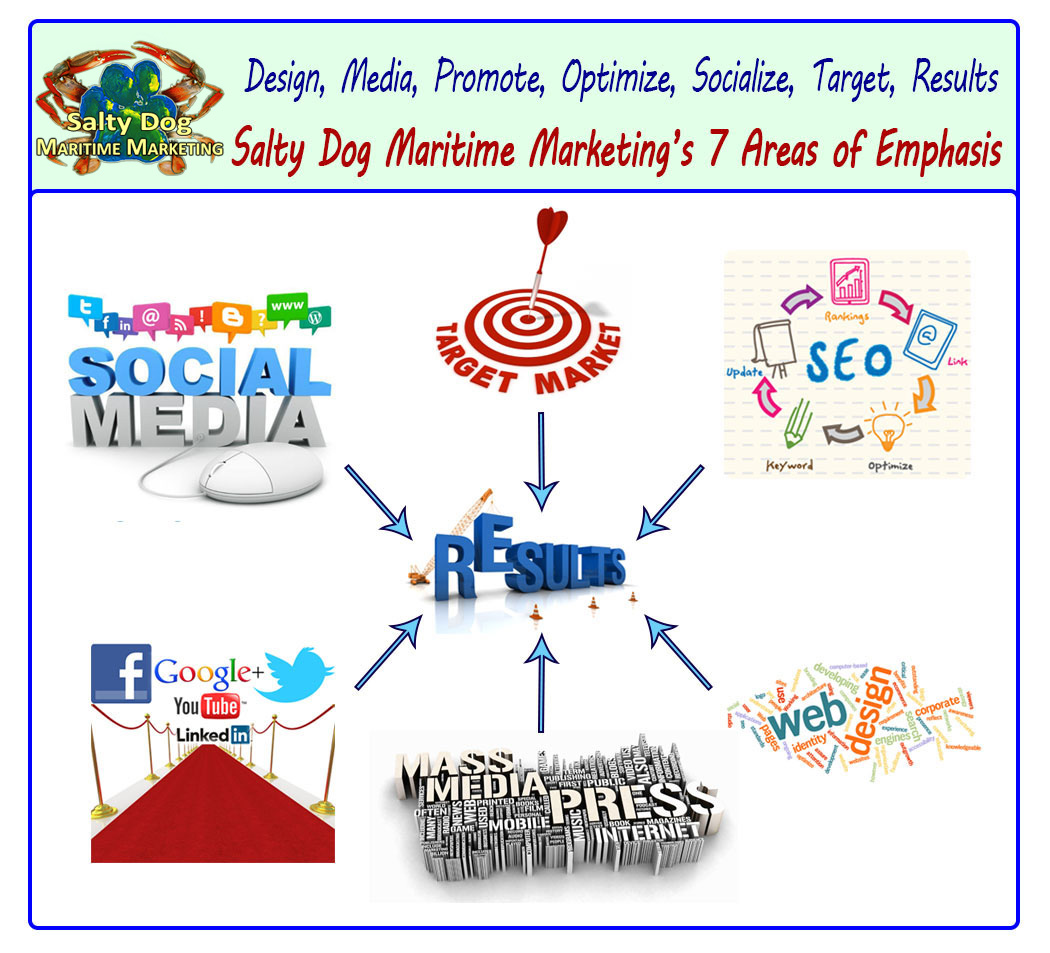 Salty Dog Maritime Marketing specializes in the below strategic services:
Press release creation
Press release print and online presence
Video Production from A – Z
Custom designed newsletters
Direct Data Base Email Blast Marketing
Strategic Custom Designed Sales Sheets
Advertisement graphics design, layout creation
Press and media connections and relationships that will grown your business
Our team is skilled at negotiating while working with press in print magazines, online promotions, philanthropies, charities and sponsored events.
EVENT PLANNING:
Strategic and organized event planning is our specialty. We aim to get you and your business directly in front of the proper client, consumer and lead decision maker that will pull the trigger making business synergy results happen in a timely efficient manner.
Event Strategies that lead to business growth and success:
1)     What make a good event is existing and client leads whom are head decision makers whom are in attendance.
2)     Proper presentation, event layout with introductions, organization and creativity are what makes the event a success.
3)     Events followed by – guest follow up, follow up and more follow up are what lead to great events with business growth and relational impact!
We recommend to your clients the below services that are best for allocate selection based on specific business growth needs:
Branding
Brand awareness
Market analysis
Business analysis
Keyword search analytics
Online promotions
Competitor analysis
Content development
Marketing campaigns
Databases for niche marketing
Link population and building
Site architecture and site SEO strategies
Product, capabilities & service awareness
& much more……..